Kitchen Cabinets
When you are ready to remodel with new kitchen cabinets, you should turn to a reputable company that has over 30 years of experience and a myriad of satisfied customers. At Kitchens by Ken Ryan, you will be provided with custom-tailored options that can meet your specific needs.
Ken Ryan has no difficulty catering to high-end projects or remodels that are more modest. With an experienced and highly regarded designer that has firsthand knowledge of the manufacturing and building aspects of kitchen cabinets, you can obtain the best results possible.
Kitchen Cabinets – Options
There are many product choices for kitchen cabinets — oak, maple birch, modular and custom-made cabinetry. In addition, there are several different types of styles for the kitchen cabinet doors, such as raised panel, flat panel and arch. You can gain access to a full cabinetry selection in their state-of-the-art showroom. With the expertise of Ken Ryan, you can get the best recommendations in order to ensure that your kitchen is functional, beautiful and on budget.
Many different aspects of your project need to be taken into consideration for proper arrangement of your kitchen cabinets, from plumbing to wiring and building codes. Kitchens By Ken Ryan is well prepared to handle everything for you and will complete your remodel or new construction project effectively. He will have open communication between the manufacturers and the contractor, so that your kitchen cabinets can meet and exceed your goals.
Kitchen Cabinets – Design
While kitchen cabinets are an integral part of a remodel, many other factors also affect the outcome of your project. The right appliances, countertops, flooring and lighting can dramatically enhance the kitchen cabinets that you have selected. Ken Ryan is prepared to assist you in choosing the best materials and placement of all your kitchen components. He can simplify the process so that you do not feel overwhelmed. Working with a premier designer allows you to obtain the kitchen of your dreams.
Moving forward with new kitchen cabinets and a remodel lets you increase the value of your home. It is one of the key features of a residential property and can help you enhance your overall investment. When you work with Ken Ryan, you can feel confident in his abilities, as well as those of his hardworking staff. You will receive updates, follow-up and the superior service that you deserve.
If you are ready to hire an elite kitchen designer that can help you pick the best kitchen cabinets for your home, then you should contact Kitchens By Ken Ryan. With expert help at your side, you can have the best kitchen remodel experience!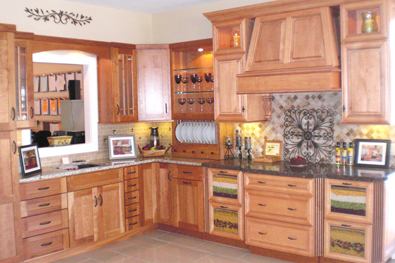 Knowledge, Excitement, Flexibility, Commitment, Confidence, Consistent, In Touch. To survive in today's brutal economic environment, these are some of the attributes needed and these are what describe Ken Ryan. When a client complains, Ken tracks down the cause and corrects it, whatever it takes. He has no time for excuses or apologies. He will treat every customer as if the survival of his business depended on it, because it does. -John Shackman